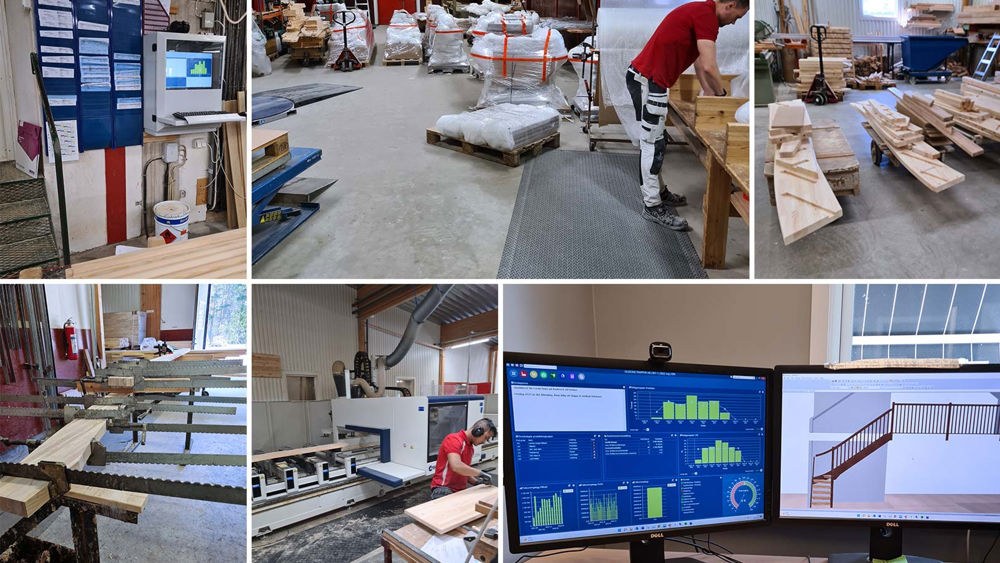 Monitor G5 – a savior in times of need
After a year of pandemic and uncertainty, co-owner Kim Olsson summarizes the introduction of a new ERP system as a rewarding journey. "We've been busy like never before and are almost fully booked for the rest of 2022. We would never have dared to book so much if we couldn't rely on the system, which helps us to keep track of how much material we need to purchase, and when."
April 2022 was exactly one year since Olssons Trappor in Färila implemented Monitor G5 in its operations. The step from manual planning to working with support from a powerful ERP system has meant a readjustment for the company. But it's a step co-owner Kim Olsson is happy to have taken. And he's convinced they did it at the right time.
When Olssons Trappor went live with Monitor G5, you said you "looked forward to working more with the program, so we can utilize its full potential – it feels like we're at the beginning of a long, but rewarding journey together with Monitor". Has it been a rewarding journey so far?
"Yes, I'd say so. We've said it many times during the last year; that we were fortunate to have changed to this kind of system when we did, before the worst of the supply chain crisis took effect. This is where we get the most out of Monitor, as it helps us to keep track of when we need to purchase material, or find replacement material. The system helps us with our planning, so we're aligned with our customers."
Olssons Trappor has 13 employees and two CNC machines. They produce between 600 and 700 staircases annually, and the last 12 months has been a record year. Our delivery time for orders is now up at around 18 weeks, from our usual delivery time of 6 weeks. According to Kim Olsson this is a nice problem to have, which provides some challenges that would have been difficult to navigate without a stable ERP system as support.
"We've been busy like never before, and are almost fully booked for the rest of 2022 in May. We would never have dared to book so much if we couldn't rely on the system, which helps us to keep track of how much material we need to purchase, and when. We can already see now what we'll need in October/November, and can communicate this to our suppliers."
We have a good overview of our own time and capacity and know exactly how much it costs to manufacture.
Before the implementation of Monitor G5, Olssons Trappor relied on manual calculations, which made it impossible to predict future material requirements and delivery times.
"Monitor's brilliant in this respect, even though no two staircases are the same. We have very good accuracy with calculations on material consumption. With certain materials, we can see down to the nearest meter when we'll run out.
Kim Olsson describes the transition to Monitor G5 as going from "the stone age to the future".
"After going through all the operations in the manufacturing process and seeing how long each step takes, we now can make realistic and accurate pre-calculations for production."
"This means we can get an accurate picture of our own product pricing, since we have a good overview of our own time and capacity and know exactly how much it costs to manufacture. The E-Factor is probably close to 1.0*," says Kim Olsson.
He is co-owner of Olssons Trappor and the second generation of the family-owned business to work with staircase production in Färila, just north of Ljusdal. The business began with production of rural style furniture in the beginning of the 1990s, and gradually moved over to staircase production. The company was early on the market with CNC technology, something which made the staircases more advanced, and the fit more accurate.
"Today we've come so far that that we can rely on the technology, and don't need to test assemble the staircases before delivery. Provided the order placed is accurate in its measurements, the staircase will be accurate. We work, however, with organic material, so certain steps in our production involve, and will always use, manual craftsmanship."
What is your strongest selling point?
"We often hear that we have good, personal service. Many people appreciate communicating with the same person throughout the entire process.
During the year since Monitor G5 moved into Olssons Trappor, a lot has happened. The pandemic, and uncertainty, have led to a number of challenges for the company. For example, it's been difficult to procure certain materials.
"We normally purchase a great deal of oak from Ukraine, so here we needed to find alternatives. But even before this, during the second wave of Covid, we had only half of the factory up and running. We were forced to reassess. But it was much easier to see how we could prioritize and reorganize when we had Monitor G5 to lean on. We were able to give straightforward responses to customers on when they actually could expect their delivery."
E-factor (or e-number) = the ratio between the pre-calculation and the post-calculation.
Time to upgrade to Monitor G5
Upgrading to G5 is a way to future-proof your business. The wide range of improvements and new features will help you get more from your day-to-day work through greater efficiency, better workflows, and a clear, user-friendly interface.
Upgrade to G5