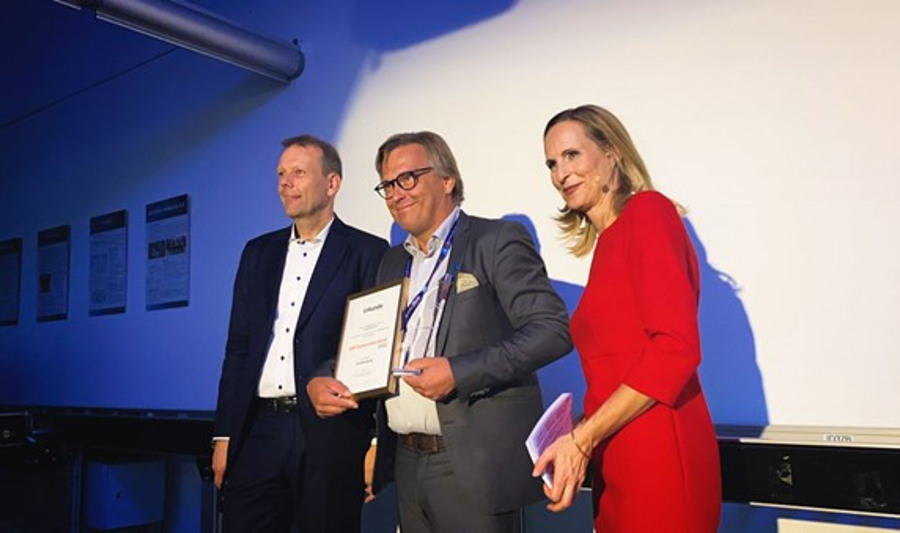 Monitor ERP wins prestigious ERP System of the Year award
Monitor ERP has won the 2022 edition of the ERP System of the Year award, in Potsdam, Germany, in the category for manufacturing companies. The jury was won over by Monitor's plans in the area of sustainability, to adapt the system for more environmentally friendly production.
"It was surprising, nerve-racking, and great fun. It's difficult to beat German systems on their home turf, and we definitely didn't take this victory for granted," said Jonas Persson, Head of Business Development at Monitor Group.
Simply put, every ERP system in the competition is ranked based on several different criteria. The ones that come up to a certain level go forward to the final, and can present their systems to a jury made up of consultants, researchers and media representatives from within the ERP industry. Only a handful of those taking part make it to the prestigious final.
Monitor's Head of Business Development, Jonas Persson was on site in Potsdam on Wednesday. In his view, there are a number of reasons why Monitor won its category.
"We took this victory because of the program's raw strength. This is a seal of approval that the product itself meets really high standards," he said.
The jury was especially impressed by how well Monitor ERP is adapted to the German market (with software certification according to IDW PS 880), as well as the company's work on sustainability, where Monitor is developing new ways for manufacturing companies to adopt more environmentally friendly production methods.
Monitor has a dual approach to sustainability. Firstly, it's about enabling companies to measure the volume of CO22 they produce, at component level. That is, every part that is included in a product. For example, you'll be able to choose a supplier based on who can offer the least environmental impact for a certain part. You'll also be able to measure and compare environmental impact based on the internal solutions which are used for both manufacturing and logistics.
Secondly, it will be possible to plan manufacturing with a circular perspective in mind. This means, for example, that the manufacturing process for a certain product could begin by dismantling another product which has already fulfilled its life cycle. This method will become more and more common as growing numbers of manufacturers base their production on recycling and upcycling.
"The whole world is searching for solutions to climate change. We realize that an ERP system has the infrastructure in place which is required to effectively measure the level of impact production has on the environment," he added.
"There are so many different suppliers to choose from. It helps us a lot if we can show we're the best in this area."
This time-honored contest creates tough competition between the ERP suppliers taking part. This year only Monitor ERP and the German system ABAS ERP made it to the final in the category for ERP systems for manufacturing companies, where Monitor ERP took first prize.
What does this mean for Monitor in Germany?
"It means a lot. Above all, it brings a whole new level of exposure. We noticed this when speaking to people after the award ceremony – it was an eye opener for a lot of people who didn't know about us before," added Persson.
Persson believes it's a show of strength on a market where demonstrating measurable results makes a big impression.
"There are so many different suppliers to choose from. It helps us a lot if we can show we're the best in this area."
Factfile – "ERP System des Jahres"
When: September 7, 2022.
Where: Potsdam, Germany
What: The 17th edition of the oldest and most prestigious award for ERP systems in Europe.
How: 11 categories. The finalists in each category are assessed by an independent jury of experts. The award recognizes industry-specific functions, technology and level of integration, ergonomics, research and development, customer value and customer satisfaction.