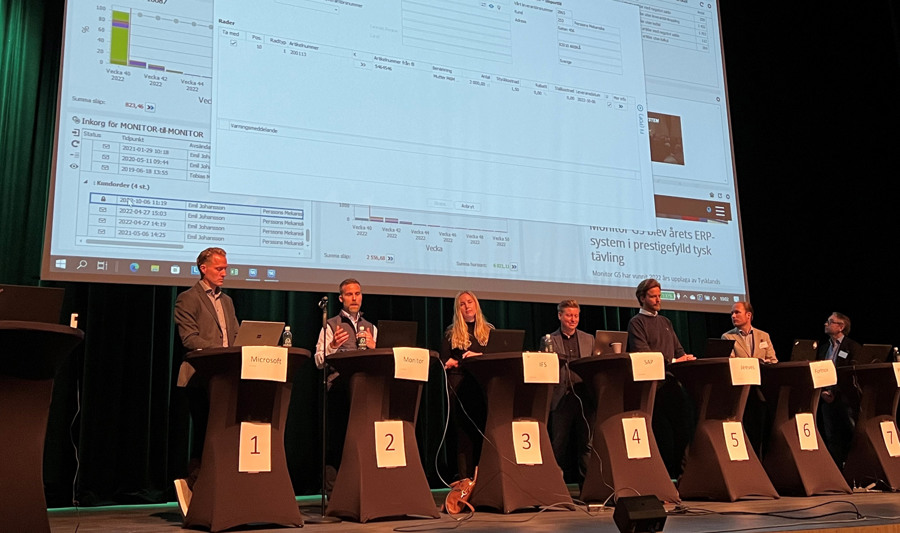 Monitor ERP voted best ERP system in Sweden
For the sixth straight year, Monitor took the title of Sweden's best ERP system at the Logistik och Affärssystem (Logistics and ERP Systems) event in Värnamo. The competition is the biggest for ERP systems in Sweden, and all ERP system providers are invited to take part. Monitor was a clear winner, with Microsoft and SAP sharing second place.
Each system provider demonstrated functionality in three areas, with the event participants asked to vote for a winner. Emil Johansson, who represented Monitor, demoed the user interface in Monitor ERP as well as how to work effectively in the system. He also showed how Monitor can predict future problems with delivery, how different companies that run Monitor can have their systems communicate with each other (using Monitor-to-Monitor) and how multiple companies running Monitor within the same corporate group can communicate easily and effectively with the function customer order transfer. 
"I think a lot of people appreciated that I demoed live in the system, so they could see how things really work. Some of them told me I'd put my finger on the challenges they face in their day-to-day work, and that what I showed them would help. We've been focusing on the manufacturing industry since day one, which means we have a good understanding of the system support required in the industry," said Emil Johansson, who works in sales at Monitor ERP System.
Besides Monitor, Microsoft, and SAP, IFS, Jeeves ERP, Fortnox AB, Vitec Unikum Datasystem AB and Infor took part in the competition.
"I think Monitor won the competition because they demoed the system well and focused on manufacturing. Emil Johansson, Monitor's representative on the ERP panel, did a good job. They've also had strong growth as a company and have a large share of the market for manufacturing companies in Sweden," said Jan Idsäter, who organizes the event.
"For the sixth straight year, Monitor took the title of Sweden's best ERP system"
Earlier this fall, Monitor ERP System was also voted ERP system of the year for manufacturing companies at the ERP-System des Jahres, the prestigious German contest which is the largest for ERP systems in Europe.
"To be voted best ERP system in both Germany and Sweden is absolutely fantastic. These are two industrial nations with long experience of ERP systems which have high standards when it comes to system support. To be held up as the best ERP system in both countries underlines that we deliver very high quality," he added.
Logistik och Affärssystem (Logistics and ERP systems) is held every year, although the date of next year's event has not yet been set. For more info on the event, and the competition, visit  https://affarssystem.nu/