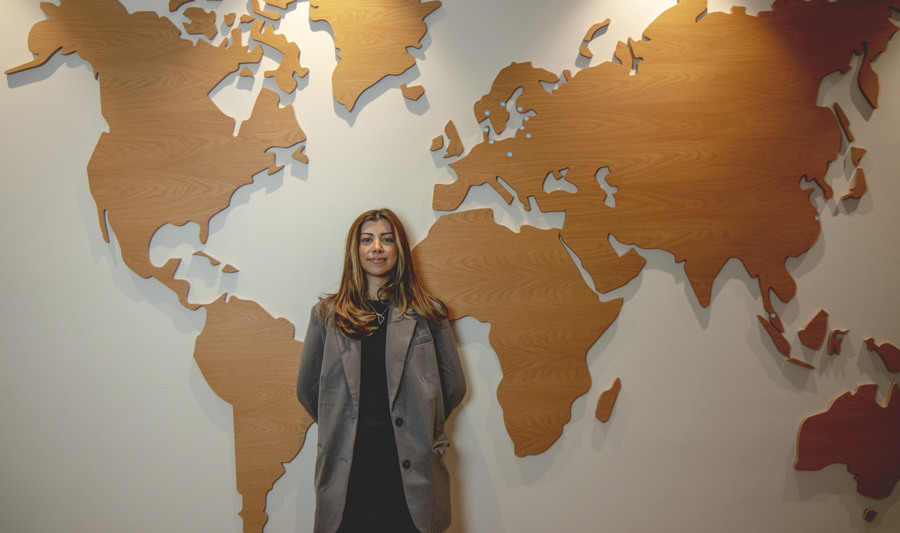 From Istanbul to Monitor Support
Meet Hazal Kiliç, 24 She grew up in Turkey, studied in Istanbul and Gothenburg and now lives in Hudiksvall. Hazal is always keen to learn new things and try new challenges. She quickly became fluent in the Swedish language, and after nearly one year at Monitor has already tried two totally different positions in the Support Center. "Say yes when you get the chance. Why say no? You never know until you've tried."
When Hazal Kiliç moved to Sweden a couple of years ago it was part of a long-term plan. As the age of 16, she'd already decided to study international relations and political science, with the hope of eventually living and working abroad. While at university in Istanbul she had the chance to be an exchange student in Gothenburg for six months. She then met her boyfriend from Hudiksvall, and also fell in love with Sweden, deciding to return here once she'd graduated in Turkey.
Moving from a massive city to Hudiksvall was a major project with plenty of challenges. Where should you live? What should you do? And who should you talk to about things?
It must have been difficult. Where do you start?
"Yeah, that's how I felt," she says, laughing.
In Gothenburg she studied business administration and statistics, among other things. Lectures were English, but Hazal decided to start learning a little Swedish by watching TV series and listening to podcasts. She describes the language as the biggest challenge – and the key to feeling at home in her new country.
"People often ask me how I learned a new language so quickly. If I decide to do something I always try to succeed. I always try to find a way that works for me. After learning Swedish I felt like I wanted to become part of the community. I wanted to laugh at the same jokes. Everyone speaks English here so you can always make yourself understood, but sometimes you want to feel like a regular member of society."
When she'd finished studying in Gothenburg, Hazal moved back to Istanbul for two years to complete here degree. She then moved in with here boyfriend in Sweden. When she visited Hudiksvall for the first time, something just clicked.
"It was totally different to Gothenburg and Istanbul. There was a calmness. I knew I wanted to live here.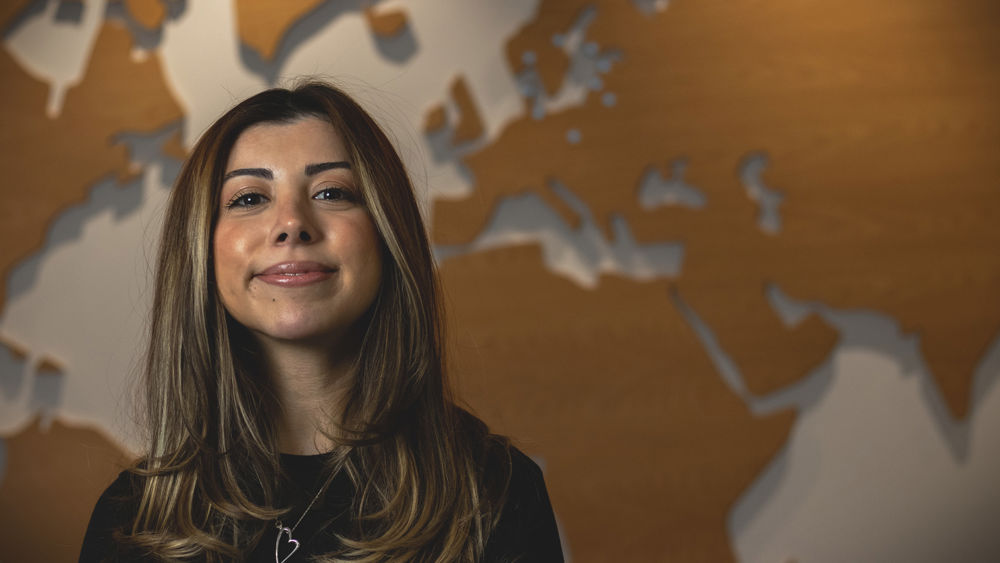 She talks about how it feels to moved from something comfortable and secure to something brand new. Another society; another culture.
"It's a big change. And you start to change yourself; how you think, everything. But I had a lot of support from my family in Turkey, by boyfriend and my close friends, which I'm really grateful for. And I wanted to come here as well, which made it easier."
She talks about how she's long been interested in how things work behind the scenes. She decided to continue studying in Hudiksvall and took a distance course in IT technology. This led to a job in the IT department at Mid Sweden University in Sundsvall.
It was during this time she heard about Monitor, and was curious to find out more. And after sending in her CV, she was quickly offered a position in on the technical support team.
"It's not like regular support. It's about understanding what's required to ensure the program runs as it should. You work with SQL Anywhere and Monitor's servers, for example, and there's a lot of customer contact. You need to know how to act when customers call and say they can't access the program. You start by troubleshooting, asking what they did before the problem arose.
The Support Center receives many different types of cases. Some customers have a limited grasp of IT, others are really knowledgeable. Sometimes you have to explain what a server is, or outline the system recommendations required in order for Monitor to run as intended, explains Hazal.
"A customer can have anything from 20 to 200 users. So it's stressful when a whole company is affected, and I have to help them."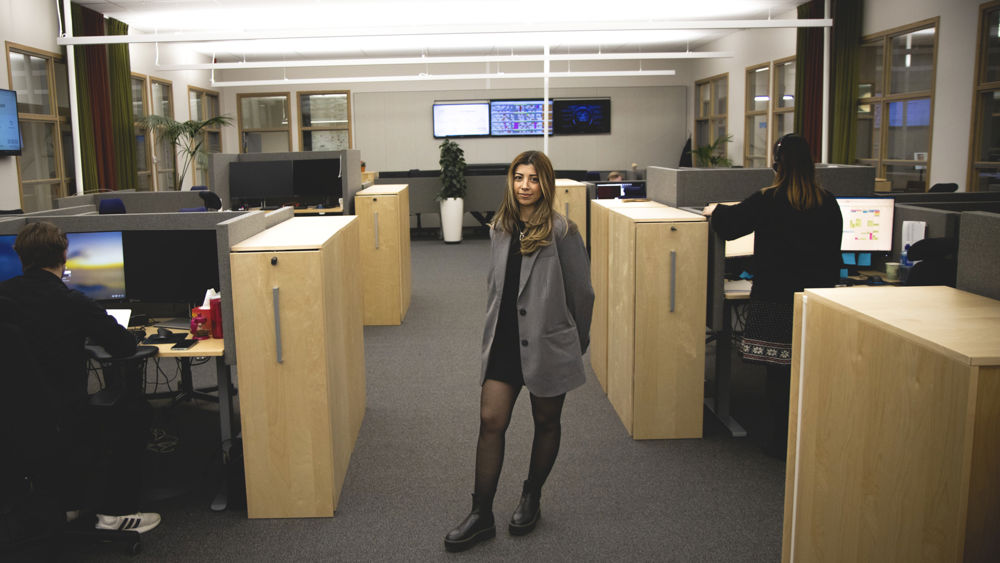 What did you know about Monitor before you applied for a job here?
"I didn't know so much. I didn't know it was so big; not just in Sweden but in other countries. I didn't know what an ERP system was, and why it was used."
But her first impressions were positive.
"I really felt at home here. And straight away, this makes you feel more secure. It's really easy to communicate with the other departments. All the information you need is in the building. When you need to find something out, all you need to do is ask. I really feel like we're a team here. Not only in Support, but across the company.
After six months in technical support, Hazal recently moved over to a new department in Monitor. Some time ago she started working with the ERP system itself, and now takes support cases within MPC (Master Production Schedule). She became interested after visiting a customer and seeing how Monitor is used on the production floor.
"It's great to be given responsibility, and to be able to try something new if you're interested in it. I asked my manager, who was really supportive. I wondered 'what will happen if it doesn't work out?', but he said 'I know it's going to work out!'" Hazal laughs.
I didn't know what an ERP system was, and why it was used.
She describes how support role at Monitor was very different to other customer support positions. There are now standard responses that work for all customers. And although many customers have very similar problems, it's always about finding a solution for the specific customer based on their needs.
"You have to constantly learn new things in order to answer customers' questions, and try to stay up to date. You have to know what you're talking about. For example, when it comes to new functionality."
To keep track of new development there is Monitor Academy, an e-learning platform both for customers and Monitor's employees, as well as the changelog, on the website, which outlines corrections and new development. You can also test new workflows in a demo environment in Monitor before responding to the customer.
"We take responsibility for all the cases we receive until we know the customer has had a response. This is important; that is to answer customer inquiries professionally and ensure they speak to the right person. If I can't answer a question I'll look into it and get back to the customer, or find a colleague who can help."
What do you enjoy about the job?
"I find problem solving a lot of fun. And the close contact we have with customers. Getting back to a customer when you've solved a difficult issue is really satisfying. And my colleagues here are great. It's nice to come here and feel part of the company.
Hazal describes Hudiksvall as a magical place to live. Especially in the summer. She was drawn by the sense of calm and that everything is close to hand.
"It doesn't take two hours to get somewhere like it did in Turkey. And the cost of living is lower, lower than in a lot of places," she says.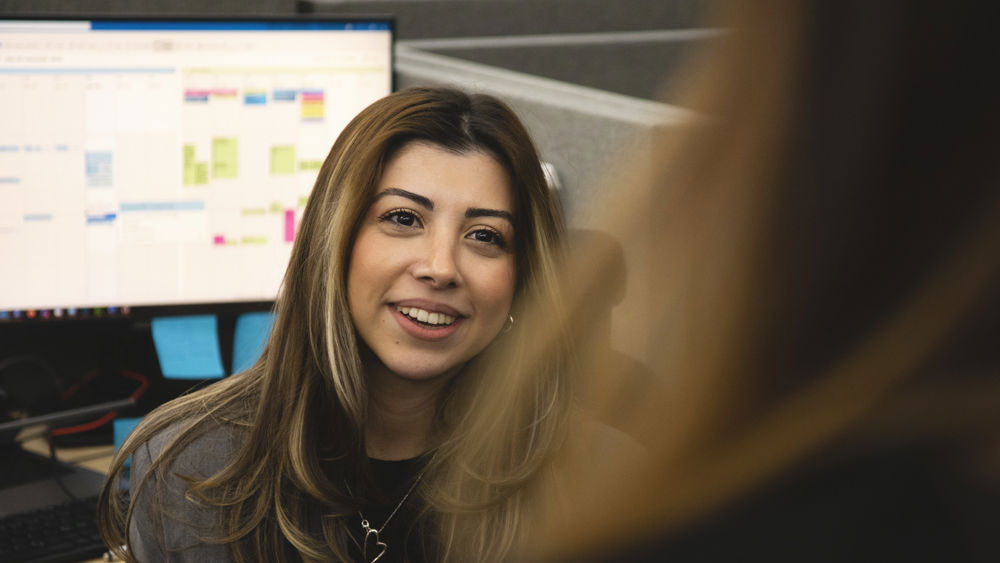 Despite never regretting moving to Sweden, she does think about here life in Istanbul at times. There's more to see and do there, even if you don't always take the chance. And also leaving here family and friends in Turkey.
"My employer has been really welcoming, and it feels really inclusive here. This is helped me feel like I don't regret the decision to move."
She also describes how she's grown as a person. And how she sees things in a new way.
"I know things take time, but you learn more about how to prioritize your physical and mental health. This could be the most important thing I've learned about moving to a small town. To prioritize myself."
So what's Hazal's advice for someone considering their future?
"If you get the chance, say yes! Why say no? You never know until you've tried. I've always said yes," she says with a big laugh.