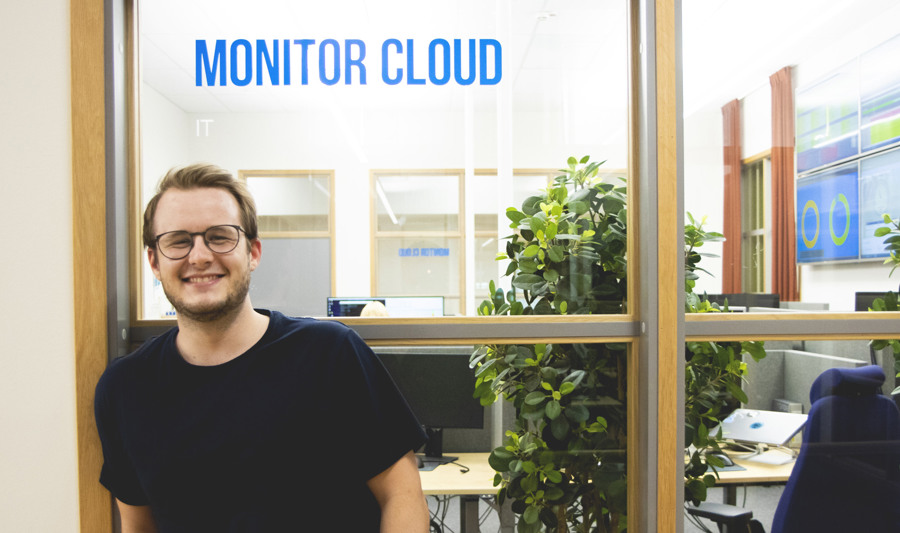 From advanced technology to cable routing – all in a day's work for Anton
One of the reasons Anton Bergström likes his job at Monitor so much is that there are always new challenges to overcome. "We're not afraid to try new things. At Monitor, everything is within reach," he says.
Anton Bergström describes himself as a data nerd at heart. He's been interested in computers since high school. Back home in his flat there are test servers on the go! His interest in IT has gone from being a hobby to a job. Born and raised in Hudiksvall, he's lived here almost his whole life, apart from a short period in Västergötland where he studied. If the weather's nice, you'll find him on the football pitch or with remote control in hand operating his new drone.
Anton's career at Monitor began when he started a gap-year placement at the office in Hudiksvall. This program is aimed at young people in the municipality, and combines one-year's work experience with academic study, between upper secondary school and higher education.
Since then he's studied IT technology at the University of Skövde, cut short his studies, moved home to Hudiksvall, worked at a consumer electronics store, applied for a job at Monitor – without getting it – taken a Learning in Work placement at Monitor and then secured a permanent position as a technician in Monitor's IT team.
It's clear that Anton had decided at an early stage that Monitor was the right employer for him.
"If you want to work at a tech firm in Hudiksvall then Monitor is the place. There's a lot of scope here to have fun and challenge yourself. We're not afraid of new challenges and testing new things. At Monitor, everything is within reach," he says.
For example, Anton was able to realize his idea to build a Microsoft database cluster – something that started with a conversation at the coffee table.
Monitor Cloud is another example. The idea of hosting customers' ERP system from our own server center in Hudiksvall has been in the company for some time, but started to crystallize around the time that Anton started at Monitor.
"Things just fell into place. When they started testing the solution the responsibility went to me, since I'd spent a lot of time on it during my gap year. I've grown with the project and learned things the whole time. I left school just two years ago and now I'm responsible for this," he says with a smile.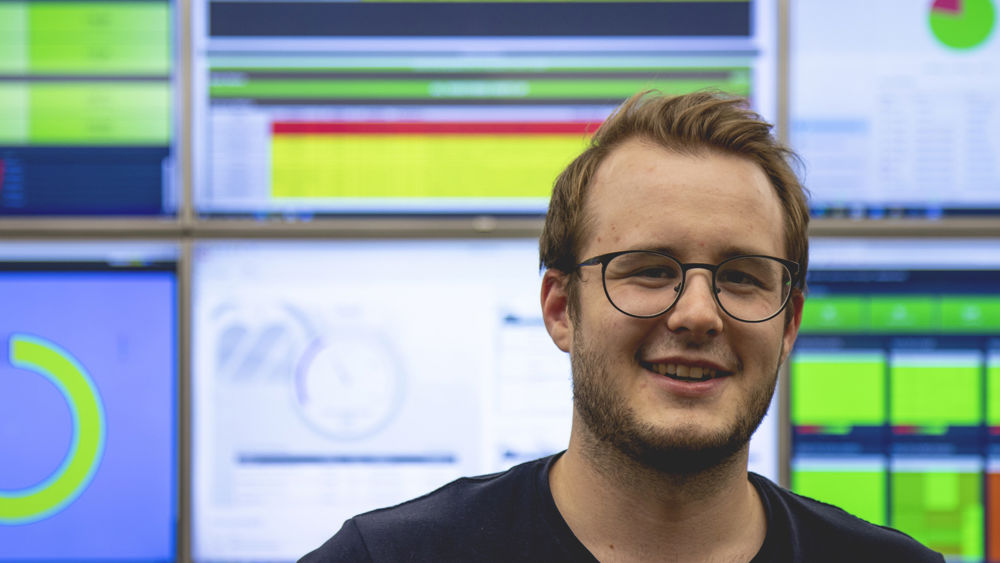 What were the challenges of the Cloud project?
"There were many things. I was quite nervous the first time I had contact with the customer and there have been some difficult situations, but you grow as a result and learn different things.
Working with IT at Monitor means working with different tasks – networks and servers, hardware and software, database motors and more. We focus on everything from complex technology to routing cables. It's nice to shut down sometimes," says Anton.
"No two days are the same. There's always something new to be tested and implemented – sometimes difficult tasks, sometimes more challenging," he says.
"There are lots of different things to do. We operate in eight countries and have over 350 internal users and thousands of customers. If you want to be a versatile, technical grounded IT technician then you should work here. If you want to forge a career just put your best foot forward and see what happens."
A working day for Anton normally starts by checking e-mail, to keep track of any alarms that may have been raised. There is a surveillance system here which ensures everything is as it should be with the different systems.
"We also have an alarm which can reach us outside of work. I then check if any new cases have come in from customers, or orders for the systems that we need to set up. Things can be very different depending on what needs to be done at the time.
There are always new projects and possibilities." To constantly be challenged is the main reason Anton is so at home at Monitor.
"I'm having too much fun to do anything else."
"I'm having too much fun to do anything else."
How have you been able to apply your education?
"What I learned at school barely scratches the surface. You're given tasks here and are forced to find solutions. For example, to look on the intranet and discuss with others in the department."
He thinks that those who study today should apply for a Learning in Work placement.
"You do some basic tasks, but if you can take care of these you'll soon get new ones and can move on to more advanced work. But you need to show interest, so you can build trust and try new things."
Is there anything you're particularly proud of?
"During the placement I was tasked with coming up with a secure solution which takes a daily backup of our internal environment and places it on offline, disconnected. It's still being used.
He describes the environment at Monitor as easygoing. It's very open here and everyone understands each other.
"There's a nice vibe here and we challenge each other. We talk about things a lot within the team. We have big personalities here – it can be a lot of fun. Everyone's is nice and easy to talk to. I think a lot of people here have fun at work."
Why work at Monitor?
"You'll be working with some of the most enjoyable technical solutions in the IT world – not just here in town, but nationwide. If you spend time here you'll end up staying."
What's the best thing about working here?
"I love the variation of working in the IT world. It suits my personality. I'm really sociable and wouldn't want to sit in front of a computer all day. Sometimes you need a break; to do something else."