Service
Integration with Infobric Workorder
What is Infobric Workorder?
Infobric Workorder is a complete digital order management system for those working in aftermarket. Fully integrated with Monitor ERP, it gives you greater control and makes your day to day work more simple and productive.
How does it work?
Create work orders and plan jobs for your service technicians and installers from your computer or smartphone. Working with Infobric Workorder provides a common information space which enables you to work more quickly, and improve cooperation with field and office personnel. You can also invoice more quickly, as data is created automatically in Monitor ERP thanks to seamless integration.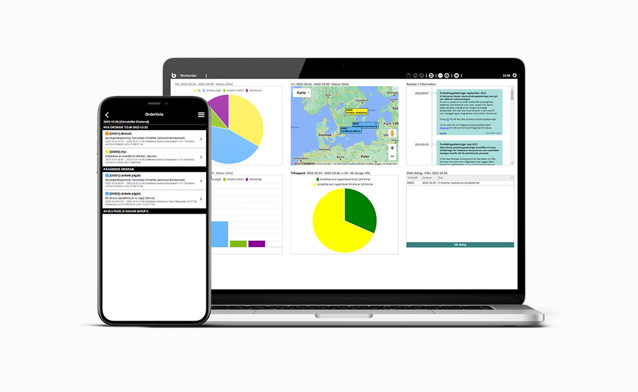 Seamless integration
Improve cashflow – invoice the same day the order is completed.
Better planning with a clear overview of your service and installation work.
Enhance the quality of your work and improve customer service by handling all items and service history directly in the system. Simple.
App that works in offline mode – network independent.
Easy to get up and running, simple to use.
Seamless integration with automatic transfer between Monitor ERP and Infobric Workorder.
What does it cost?
Making the right choice should be easy. Choose the right license for the right employee with Infobric Workorder's user levels, instead of the company package. This means you won't have to pay for more than you really need. Add, remove and upgrade according to your needs.
Time
Authority to report time for existing orders/projects.
Basic
Authority to report time and material, among other things, and complete checklists in existing orders/projects.
Plus
Access to all functions in the system, such as creating work orders and approving time reports.